공지사항 조회
Notice Search
정책 및 프로세스
Policy & Process
SSG.COM의 입점업체, API연동업체들이 SSG Admin시스템에서 등록된 공지사항 목록과 상세내용을 조회할 수 있도록 API를 제공하며,
공지사항 목록 및 상세조회 프로세스는 아래와 같습니다. The SSG admin system provides an API for viewing a list of registered announcements and details.
- Notice List & Detail Search processing as follows.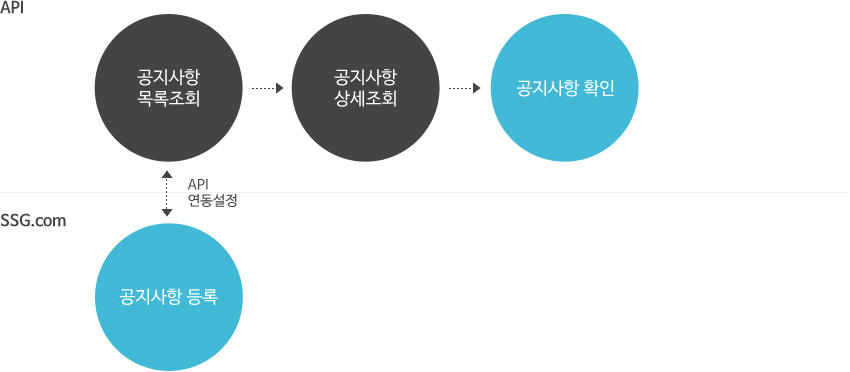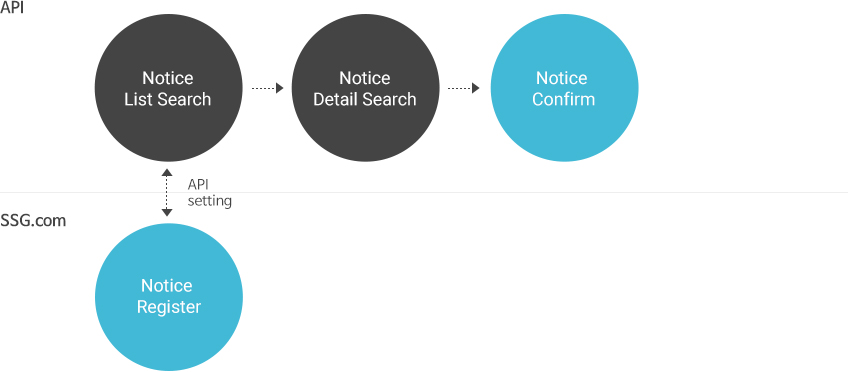 기본설명
Description
SSG.COM Admin에서 PO시스템과 API를 사용하는 업체들을 대상으로 등록하는 공지사항들의 목록과 상세내용을 확인하기 위한 API입니다.
각 항목별 필수값을 넣지 않으면 오류메시지가 발생하니, 각 항목별 필수사항을 체크해주세요. It is the API that confirms notice lists and details for venders which are using PO system and API on SSG.COM Admin.
Check Essential details on each properties to prevent error message from essential values.
API 상세 항목
API List
1. 공지사항 목록 조회 API 1. Notice List Search API
URL : /api/cm/notice/notices.ssg

METHOD : POST

RESPONSE BODY :
이름

Property

타입

PropertyType

필수 여부

Required

설명

Description

수정일

UpdateDate

result
OBJECT
Y
-
resultCode
VARCHAR2(2)
Y
결과코드
00:성공
99:실패 Response Result
00:SUCCESS
99:FAIL
-
resultMessage
VARCHAR2(10)
Y
결과메시지
00:성공
99:실패 Response Message
00:SUCCESS
99:FAIL
-
resultDesc
VARCHAR2(4000)
Y
결과상세내용 Response Description
-
notices
LIST
-
title
VARCHAR2(10)
공지사항 제목 Notice Title
-
noticeType
VARCHAR2(10)
공지 분류 Notice Type
-
seq
NUMBER
공지사항 번호
* 공지사항 상세를 조회하기 위한 공지사항 키값 Notice Serial Number
* Key Value for getting notice detail
-
registDate
DATE
등록일시 Registeration Date
-
modifyDate
DATE
수정일시 Edit Date
-
샘플 코드 예제
Sample Code
2. 공지사항 상세 조회 API 영문 API 설명
URL : /api/cm/notice/detail.ssg

METHOD : POST

REQUEST PARAMETER :
이름

Property

타입

PropertyType

필수 여부

Required

설명

Description

수정일

UpdateDate

requestNotice
OBJECT
Y
-
seq
NUMBER
Y
공지사항 번호
* 공지사항 상세를 조회하기 위한 공지사항 키값 Notice Serial Number
* Key Value for getting notice detail
-
이름

Property

타입

PropertyType

필수 여부

Required

설명

Description

수정일

UpdateDate

result
OBJECT
Y
-
resultCode
VARCHAR2(2)
Y
결과코드
00:성공
99:실패 Response Result
00:SUCCESS
99:FAIL
-
resultMessage
VARCHAR2(10)
Y
결과메시지
00:성공
99:실패 Response Message
00:SUCCESS
99:FAIL
-
resultDesc
VARCHAR2(4000)
Y
결과상세내용 Response Description
-
notices
LIST
-
title
VARCHAR2(10)
공지사항 제목 Notice Title
-
noticeType
VARCHAR2(10)
공지 분류 Notice Type
-
seq
NUMBER
공지사항 번호
* 공지사항 상세를 조회하기 위한 공지사항 키값 Notice Serial Number
* Key Value for getting notice detail
-
content
VARCHAR2(4000)
공지사항 내용 Notice Detail Content
-
postingStartDate
VARCHAR2(10)
게시시작일 Notice Posting Start Date
-
postingEndDate
VARCHAR2(10)
게시종료일 Notice Posting End Date
-
registDate
DATE
등록일시 Registeration Date
-
modifyDate
DATE
수정일시 Edit Date
-
샘플 코드 예제
Sample Code